8 YOGA POSES TO RELIEVE PERIOD PAIN
Jun 16, 2022
Each of our experiences of menstruation may be vastly different.
For some, we flow through this phase without pain or discomfort. For others, this time of the month can be debilitating and leave you feeling like getting out of bed is not even close to an option. I've personally experienced both.
Even if you're not someone who experiences pain, slowing down and connecting to your womb during this phase can lead to a deeper connection to both the self and the natural world. We are cyclical beings. Slowing down during this phase honours that.
Gentle restorative yoga is a beautiful and accessible way to stay connected to your practice and also to your body as you bleed.
The following sequence is a series of shapes that I have found helpful during menstruation; to relieve pain, stretch my body and feel as though I'm still consistently dedicated to my practice without over-exerting or risking injury.
You can use props if you have them. Pillows from your bed will work well. You may even choose to practice these shapes from the comfort of your bed.
I'm not a big believer in binaries, therefore, to me, there's no right or wrong way to practice restorative yoga. Ideally, your joints are supported and your body can relax. If sleep comes, allow it.

You may prefer to practice in silence; you may prefer to have some gentle music playing; alternatively, you can practice this free guided meditation to relieve cramps.
You may choose to practice any or all of these shapes.
This practice is yours. Menstruation is a time of deep listening. Be gentle with yourself.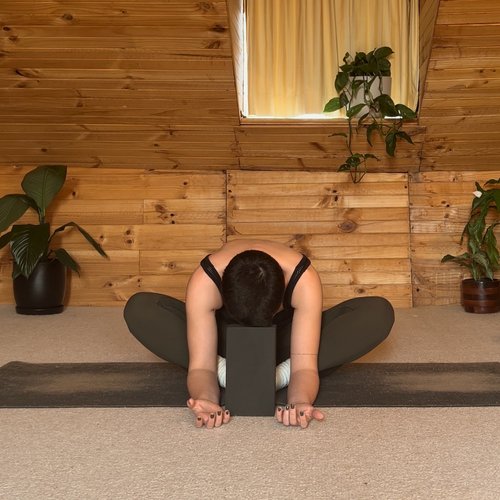 WOULD YOU LIKE A FREE YIN YOGA CLASS?
Leave your email here to receive your free yin class directly to your inbox plus exclusive access to blog posts and other offers before the rest.
Your email is safe with me.